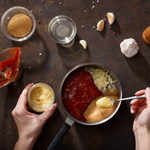 H.G. Woodchuck Carolina meets Vermont BBQ Sauce  
Makes approximately one pint 
This is a Carolina-style vinegar-based bbq sauce that is great on chicken, pork, ribs, fish… Pretty much everything except your breakfast cereal. Marinate meat and chicken for as long as  you wish—up to 12 hours, and fish for 1 to 3 hours. 
Combine all ingredients. Pour into an airtight jar and shake.  
Keep in fridge, and shake before using. 
1 cup apple cider vinegar 
1/8 c mustard (yellow, dijon, or course-ground—your preference) 
1 1/2 t sea salt (smoked salt if you have it) 
1/2 t or more fresh ground pepper 
1/4 to 1/2 t red pepper flakes (depending on how spicy you like it) 
1/4 c H.G. Woodchuck maple syrup 
4 cloves fresh garlic, chopped fine (can substitute 1 t flaked or powdered dried)